Trekking The National Parks: (2nd Edition)
$50
The Family National Parks Board Game
Created by National Parks lovers
Great for families
Appeals to a wide range of people
Simple, elegant rules
Free shipping on all orders
2-5 Players
Ages 10+
30-60
Minutes
NO QUESTIONS
ASKED REFUND POLICY
THE PERFECT GIFT
FREE SHIPPING
Celebrate the national parks at your next game night
Trekking the National Parks brings the fun and challenge of modern family board games to your table. The game was specially designed to be both entertaining and educational. Every park card features an interesting fact and gorgeous photograph that will inspire players to explore the protected natural wonders of America. Each game also begins with a unique setup that alters the play experience in surprising ways, allowing for endless replayability. Trekking the National Parks is the perfect gift to anyone who loves the outdoors and board games.
Customer Reviews
Customer Reviews
Write a Review
Ask a Question
11/28/2020
Maureen I.
United States
Christmas gift
The game is wrapped for Xmas Eve.. not used yet... Am excited to play it the first time
11/16/2020
Stacy P.
United States
LOVE
As a frequent traveler and a lover of our National Parks, I've wanted this game for some time now. It arrived right before my Birthday Girls trip to Joshua Tree and we played it every night! It's clever and fun. A good strategy game that isn't terribly hard to pick up. The quality of the pieces and the artistry in the card images are above and beyond. I've played with both 3 people and 5 people- the game is more competitive the more players you have bc it forces you to compete over the parks and often ends in sending players back to start. The max number of players is 5, but I have also played in teams when our total party was more than 5. It was entertaining to watch different team strategies. Looking forward to purchasing the world version of the game and people that I've played with have already purchased their own Park game after playing with me, so I'd say it's definitely a hit!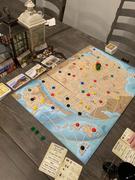 11/10/2020
Anita R.
United States
Wonderful game
We love to play trekking ..it is a nice family game.
Fantastic Game!
I bought this game at the Constituting America Auction for our family. It is so much fun, and we all love to play. The quality of this game is superb, and it never gets old. Thank you for this inspiring game which is a showcase for this great country of ours!!
Easy to learn!
This is a fun game with a unique game play. It reminds me of Ticket to Ride, but the game mechanics are very different. Easy to learn, but fun to play over and over again!
Subtotal $0
Tax and shipping will be calculated at checkout.
Your shopping cart is empty.